Authentic Qi Men Dun Jia Practitioner Course – Complete with the untold Qi Men Date Selection System
千古之谜,如今公开!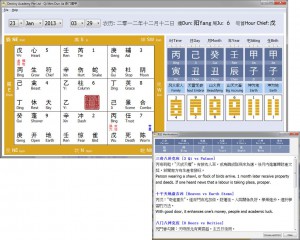 1. Why is this Qi Men Dun Jia Course Unique?
Master Jo Ching will teach you the following which is not commonly taught in the market:
how to use QMDJ in a 3-D manner, i.e., time and direction selection for activities like job interview, sitting for examinations, borrow money, collect debts, impress the girl you want to court, seek medical treatment, clinch a deal and etc. Students have used it to create an upper hand before buying 4D and entering casino.
how to interpret the QMDJ classics so that you can create the "wow" effect of fore-telling phenomenon in advance. Jo has translated all the texts into English for your easy reference. He will teach you the technique of how to do it and WHY you should see certain events before you go for your "battle". Example, strong wind from the east, a monk carries umbrella walks past, birds fly towards you and so many more.
how to use Qi Men date selection system for feng shui purpose. Qi Men Dun Jia comprises many powerful formations which you can use it for events like, renovation, opening ceremony, burial, usher business for retail shops, positioning of bed, stove and etc. If you are using Flying stars, 8 Mansions, Xuan Kong and etc, Qi Men will come in very handy as a tool to help you usher prosperity.
To facilitate your learning, Jo has developed a bilingual QMDJ calculator so that you do not need to manually plot the charts. This calculator comes with Bazi and XKDG dates format as well [3-in-1].
2. How is Destiny Academy's School of Qi Men different from others?
This Qi Men system taught by Master Jo Ching comes under the bigger umbrella of San Yuan Early Heaven 64 Hexagrams Qi Men and it:
focuses on "Hour Lineage Qi Men" [时家奇门]
also enables you to use Qi Men to do date selection for feng shui
entails Purple White stars plate
belongs to Flying Palace Qi Men (instead of Rotating Palace) 刘伯温飞宫奇门
uses Zhi Run Fa (largely used by royal families) instead of Cai Bu Fa (置闰法vs拆补法)
What makes you outstanding is that you will learn the secret techniques of how to predict and see PHENOMENON (克应) taking place before going for your "battle". See picture here on outdoor practical and reviews from participants!
3. Pre-requisite for this course
As this is an advance subject in the field of chinese metaphysics, participants are required to:
know basic bazi in terms of how bazi is being plot and 5 elements relationship since QMDJ is also known as Study of Heavenly Stems
know 8 Trigrams & Luo Shu flight path
You are Entitled to One free revision. Teaching will be in English. Voice Recording is encouraged.
Email us at academy@destinyasia.com.sg for registration form & course outline.
4. Details
Date : 7 to 9 March 2014 (in English)
Duration : 10 am to 5 pm
Venue : JLB LLP Lion Building Block D, #06-01
16, Arumugam Road, Off Paya Lebar Road, Singapore 409961
(next to MacPherson MRT station at Exit B)