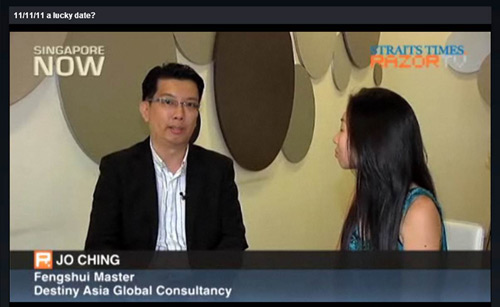 I was interviewed by the media, RazorTV on the significance of 11.11.11.
Even though this day is defined as a "Danger" day by the 12 Deities Day system (十二建除日), it is still considered as an auspicious day for wedding activities.
In the chinese wedding date selection classic, 11 November 2011 which is Geng-wu day pillar, is singled out as a Yin Yang balance day (阴阳不将日) in the month of Hai (November). This is a day that neither the yin nor the yang energy is too dominant for the male and the female. In addition, the day is blessed with good energies like Annual Virtuous and Heaven Virtuous.
The best hours to carry out activities such as signing of the marriage certificate or tea ceremony would be between 11 am to 3 pm where you will have good stars like:
Heaven Official Nobleman
Fortune Star Nobleman
Heaven Nobleman
Harmonious Star
With the presence of such positive energies, it brings prosperity and shower the couple and their parents with many blessings. When carrying out wedding date calculation for the couple, it will be interesting to note that the wedding date selection system focuses alot on the bride's date of birth. It ensures that the date selected is not detrimental to her in-laws, her offspring star and husband star. What the system aims for is to let the bride be well-treated and be able to discharge her duties as a daughter-in-law, a wife and mother to the children.
11.11.11, according to Xuan Kong Da Gua date calculation, gives rise to a combination of ten date structure especially if you arrange for feng shui activities like positioning of bed, tilting door, renovation and etc to commence between 11 am and 1 pm. Some masters have also used this system to pick an auspicious moment for wedding activity by ensuring the date is compatible with the couple's year pillar hexagram. For example, couple born in the years of 1978 and 1980 will receive good support from this date structure. Combination of Ten denotes yin yang balance.
However, one thing to note is that 11.11.11 is not suitable for people born in the year of rat as there is a conflicting energy between rat and horse.
Leave a Comment