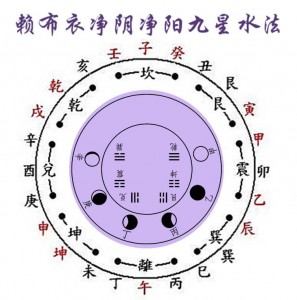 You might have heard of 5-Ghosts-Carry-Wealth fengshui method. But this is just one small part of the entire system of Fu Xing Shui Fa or some call it Assistant Stars Water Feng Shui Method. It originates from the observation of waxing and waning of moon and builds on the fundamentals of Qian Na Jia concepts.
It is very popularly used by many famous grandmasters especially in Taiwan in both yin and yang houses to assess the incoming water in relation to your tomb, house, table and bed's facing for example. This system can be independently used on its own or it can also help you to further fine tune your fengshui (on top of your flying stars, 8 mansions) so that it can usher wealth, health and baby too by complying to the Pure Yin Pure Yang concepts.
This system does not require us to know the Period of the house and it works within a span of 15 degrees to achieve result. It looks at 24 mountain earth plate and heaven plate to check incoming and outgoing water; it is used to diagnose issues in the house just by checking the facing degree.
As there have been some enquiries, I have decided to start private coaching (1-to-1) session for this. Students will also be given a special Fu Xing Shui Fa luo pan chart for calculation. There will be field trip to assess Singapore landform and famous eateries and places of interests to apply what you have learnt.
I will also teach the student how to carry out internal fengshui on bed and office desk to recieve Ju Men (wealth), Wu Qu, Fu Bi and Tang Lang water at home and office. I will reveal the rarely taught method of baby conception.
Please email academy@destinyasia.com.sg with your full name (pseudonym will not be entertained) if you are keen to find out more.
Leave a Comment