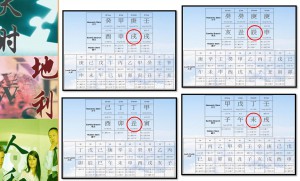 People who are born in earth season. An extract from Bazi Workshop for Practitioner.
Graveyards, storage pots or lonesome stars which some may call them refer to the 4 earth branches namely, Chen, Xu, Chou and Wei. I realise that students often get quite confused on determining the strength of day master when they come across someone who are born in the season of earth.
"Do I read this as earth season? Or do I see this as summer season?"
This a common questions raised during my bazi practitioner course. I exactly know their agony and hence, I usually set aside a section to focus and read charts on people who are born in earth season. There is a "formula" which I have derived after reading hundreds of such bazi. I have been through the painful journey too.
For example, if you are a Geng Metal born in Wei month (summer earth), do you then regard this as daymaster born in resource month or born in Direct Officer / 7 Killing month? The hint here is also to counter check what is revealed on the heavenly stems.
This concept of earth season sets many students befuddled. This is usually the tipping point to conclude the strength of bazi chart.
Leave a Comment