This article in Chinese, a real case study on one of the famous late politicians, Huang Chao Qin (黃朝琴), is contributed by our Guest Lecturer, Taiwan's top landform Teacher, Master Lin Zhi Yin (林志縈).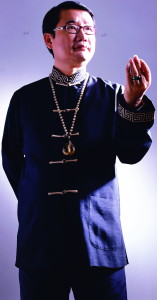 Master Lin, who is regarded as an authority in Taiwan landform fengshui , has authored many impactful feng shui books and some of them are:
•三元地理些子法揭秘 (Revealing Secrets of San Yuan Di Li Xie Zi Fa) •玄空六法秘诀图解 (Xuan Kong Liu Fa Secrets Revealed) •玄空风水玄机飞星赋评注 (Xuan Kong Feng Shui Xuan Ji and Fei Xing Classics Commentary) •乾坤国宝龙门八局图解 (Qian Kun Guo Bao Dragon Gate Secrets Revealed)
Case Synopsis:
This is a very interesting case whereby Huang had benefited from the feng shui of his father's and grandfather's burial site. See pictures below. He was a rising star in then Taiwan's political scene. Subsequently, Huang also went on to chair the commercial bank and make his foray into financial and hotel businesses. Life was smooth-sailing and prosperous and he was well remembered for his contributions to the nation. In fact, the home town where he came from had a road named after him.
After he had passed on, he was buried next to his father's and grandfather's tombs. However, his own yin fengshui did not bless his son. Shortly after he was buried, his son died from an accident and he was just 40 years old.
What was so wrong about the same piece of land that had brought Huang's fame and wealth but killed his son? The answer is all in the landform.
This is one of the 40 cases that we will be visiting and studying in our Taiwan Landform Course. For more info, you can click here. We will show you landform formations that talk about longlasting prosperity and landform that will lead to bankruptcy, poor health and poor descendant luck. We will also show you cemetery park and landform for Life Burial. Some life burial failed and some prosper. We have evidence to show.
The techniques which you acquired during the course will also open up your eyes and see things differently in a city urban context.
台灣巒頭風水课程
學習風水的人大概都知道風水有兩大系統,即「理氣」與「巒頭」。大多數人在學習風水的過程中,較容易接觸的應是「理氣」這個部分。不管是市面上的書籍,或是網路上的文章,都充斥著大量關於風水理氣理論的資訊。
問題是許多人學了好幾種理氣理論之後,拿來應用在實際的風水吉凶判斷上,卻常常發生論斷不準、吉凶不驗的狀況,為什麼呢?
那是因為沒有將「理氣理論」與「巒頭形勢」結合起來應用,也就是說,缺少了巒頭這一塊。
在風水這個領域裏,巒頭形勢的知識和經驗實在太重要了。無論陰宅或陽宅,想要造出一門好風水,先決條件是要有好的巒頭形態,然後再透過理氣剪裁的手法將巒頭的優點收為己用,從而達到乘生氣、收旺氣、催發丁財貴壽的目的。
然而,你知道如何辨別巒頭形勢的好與壞嗎?
你想知道如何從巒頭形態上很快地看出:能不能發財、有沒有官貴、旺不旺人丁、會不會有疾病或意外血光之災等等情況嗎?
請看以下這個風水案例:
圖一:黃朝琴祖墳(圖中紅圈的部分,葬其祖父母、父母)
黃朝琴的祖父和父親在他十歲左右即相繼去世,葬於此地之後,在1920、1930那個戰亂的年代,黃朝琴不但可以先後留學日本、美國,回國之後又能進入外交部擔任外交官,二次大戰結束後,他回到台灣,接任第一屆台北市長,隨後不久,即出任台灣省議會議長。可以說黃朝琴在政壇一帆風順而且成為相當有勢力的政治人物。不僅在政壇有影響力,黃朝琴還同時擔任第一商業銀行的董事長,並創辦了可與當時最大的圓山飯店分庭抗禮的國賓飯店。所以他在金融業和觀光飯店業也具有相當的實力。黃朝琴去世後,他的家鄉台南縣鹽水鎮的居民為了紀念他,還將當地的一條路改名為「朝琴路」,真可謂生前風光,死後榮光。
而黃朝琴之所以能夠如此發旺,一生風光,我們從風水的角度上來看,其實從黃朝琴祖墳的巒頭形勢就可以看出來的。
從圖一我們看到,有一條河流遠遠的從前方當面流過來,轉折了一下,再從前面繞了個半圓形,最後從祖墳的右後方流出去。
就是這樣的形勢格局讓黃朝琴大發大旺。而這格局當中的關鍵在哪裡呢?
圖二:黃朝琴本人之墓(圖中橢圓圈部分)
黃朝琴去世後就葬在他祖墳的旁邊,即圖二中橢圓形圈起來的位置。按理說黃朝琴與他的祖墳等於是葬在同一塊地中,應該是屬於相同的巒頭形勢格局才對,可是,黃朝琴下葬之後也沒過多久,他的兒子黃玉堂才四十歲左右就英年早逝了。為什麼呢?
葬在同一塊地,僅僅相隔幾步的距離,風水對後代子孫的影響就吉凶反易。表面上看來相同的格局,但其實懂得風水「眼訣」的人馬上就可以看出其中的差異,知道造成吉凶顛倒的關鍵在哪裡了。
在風水的學習和研究上,我更重視的就是巒頭形勢的辨認,及形巒與理氣結合之應用。此即風水巒頭中辨認形局之「眼訣」。以此辨形局之「勢」,而後體察氣之聚或不聚,收或不收,動或不動,以此認局勢之「竅」。然而凡此總總,必須親臨實地,透過自己的雙眼去觀察,經由自己的心去感受,再配合老師從旁指點解說,才能真正領悟形局的奧妙和關鍵之處。
這次的巒頭風水之旅,老師將帶你走訪台灣有名的陰陽宅地點,並親自指點解說巒頭形勢的關竅所在,讓你了解怎樣的格局形勢可以讓人迅速發旺,而怎樣的格局形勢則會讓人快速衰敗。
當你瞭解了山與水的自然演變、運化之理,並懂得辨認地理的形勢格局時,你對於風水的觀念和眼光都將會提升到更高的層次。所以這可以說是一次巒頭風水的「開眼」之旅!
機會難得,千萬不要錯過!
Leave a Comment