(Article written by Dr Anna Zarasyan – Qi Men Dun Jia Divination Teacher)
Following the recent blaze in Paris, like many I am still wondering how something like this could ever happen. Given how serious the Europeans are about fire safety of the historical sites, I find it hard to imagine that anything to do with the European heritage, such as museums, archives, buildings of the cultural and historic significance, would have been poorly maintained or inadequately restored. If this was the case, the French would not have had so many old buildings, built hundreds of years ago.
We have been told though, that the building was not in a good condition, or at least its roof wasn't. It is hard to believe that the faulty wiring or inferior quality roof materials could have caused the blaze. How could a place in which the most prominent public events are held, and which is attended by the millions of the visitors each year, could have the fire alarm which was not properly functioning? Something does not add up.
How about if we asked QMDJ chart for help? The charts never lie.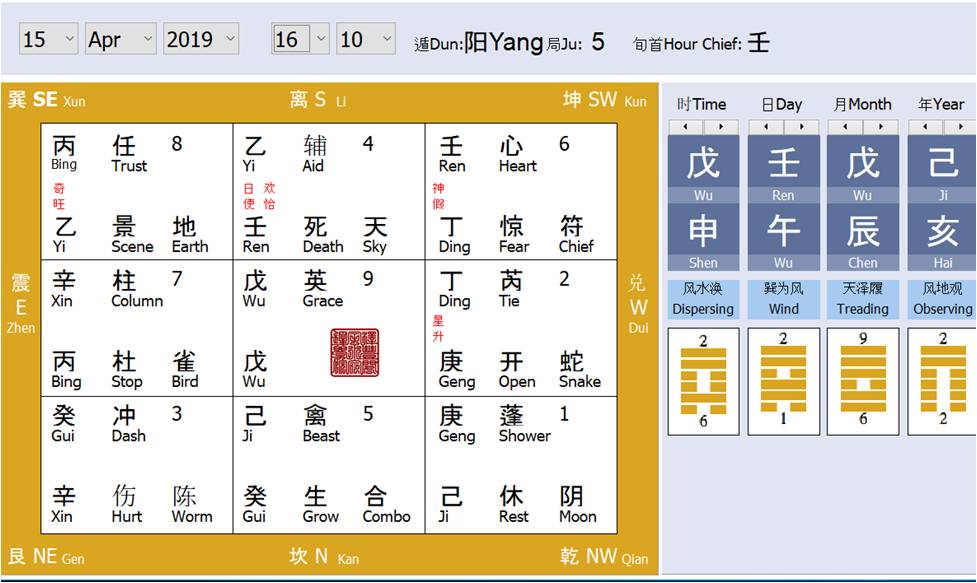 So, what we would like to find out is whether this was an accident or not.
Our method allows for certain shortcuts, so that we can pinpoint an answer at a glance. This is especially valuable for situational divination, such as this one.
In this case, we will be examining Kun palace.
The components here are Fear, Heart, Chief, Ren Ding and Purple White Star 6.
What do they tell us?
Key Meaning of Fear Door is military force, attack. It represents fast and harsh metal Qi, relating to sharp intellect and being impatient. It can be used for many purposes, including breaking a riot. The door (Metal) is produced by the palace Kun (Earth), thus the action of Metal is resultant from the current circumstances.
壬丁 Stem combination can be read as a delay, pausing, because this is a transforming combination. Ren and Ding transform into Wood. Any transformation takes time, hence there is a delay. The purpose of the delay is breaking the current cycle, while establishing a new more potent one, which is symbolized by Wood element.
Heart is auspicious star in general, but in combination with the negative components, it may act out of character. It derives from the Qian trigram, which is symbolical of high authority, and we all know what happens when you counter the boss.
The purple white star 6 is reinforcing the presence of metal here, and apart from its inherent meaning linked with Wu Qu (utmost Yang), in divination it can also mean the military force, canons and guns.
Our subtotal conclusion is that the action leading to fire derives from the current situation. The authority doesn't like being opposed (anti-government strikes) The action has been taken in order to take the time out.
Does it prove that the fire has started deliberately? Not yet. But when we investigate further by checking the hidden layer, we can see what is hidden from the view. This would give us an answer we are looking for.
The hidden Deity in this palace is Snake. Snake is the deity of conspiracy, secret and deceit.  Whenever it is present, we can confidently say that there is some form of conspiracy taking place.
I am not a conspiracy theorist, but by looking at this chart, I cannot help making a conclusion that this fire didn't happen by accident. Hopefully, one day we will find out what has really happened, or maybe not?
For now, however, we know that this sad event has, unfortunately, been a carefully executed plan.
PS: If you are keen to learn from a sincere and skillful master who teaches the authentic Liu Bo Wen Qi Men Dun Jia Divination, do consider our 3-day complete program by Dr Anna.

Date: 18 to 20 May 2019, 10am to 5pm (Singapore)
Do click here for the course outline and if you wish to know the differences in terms of applications between QMDJ Divination program versus the Art of War program, you can watch this YouTube video specially made for you.
Leave a Comment