Part of my job is to follow my clients to go down to the houses that they have shortlisted to assess the feng shui quality. If I deem that the house is able to support and give their luck a boost, the client will proceed to negotiate and buy it.
Almost in all circumstances, the owner or the housing agent will be there to present to us the best side of the house. Yes, nice furnishing by ID, good accessibilty, near supermarket and good school. Some even claimed that it has very good feng shui. I am not too sure what was their basis for saying that.
I normally take 10 minutes to assess each HDB or condominium. So, my client is quite happy with my high efficiency because they can then pack a couple more houses within that same timing for me to check. LOL. Once I walk out of the house and while waiting for the lift, I will present the result to the client.
4 and 3, the occupants can't stop losing money in betting.
Pass. Bad for businessman and punters.
3 and 2, the couple is very quarrelsome. Hey, but they were so loving just now, said my client. I then ask him to do some investigative job. Perhaps check with their neighbour.
Pass.
1 and 7, husband will have a mistress.
Pass. Unless husband pulls me aside and tells me he does not mind.
1 and 5. Dangerous especially when cancer runs in the blood line.
Pass.
6 and 8, wait! Buy! Not easy to find such prosperous house.
I am so happy. Finally I can pack and go home after checking so many units.
My client stares at the piece of paper that I scribble on. Hey, that looks like Sudoku, he exclaims.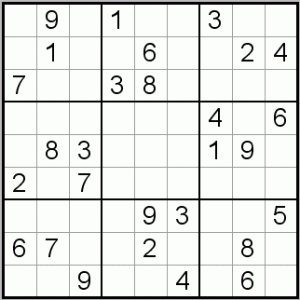 Sudoku Chart
I smile and tell him this is a lie detector system to counter check if the stories told during the house viewing are bona fide.
Stars don't lie. I fully trust them.
Leave a Comment